INVEX FONDI is a Latvian company that provides its customers with intermediary services of international export factoring throughout the EU territory, as well as in the countries of Asia and on the continents of America:
with financing up to 90%
for export to 90 countries worldwide
without collateral
with 100% buyer risk coverage
Basic conditions of factoring:
Buyer's limit is determined by buyer's paying capacity
Factoring limit is determined by customer's ability to deliver goods and services at specified amount
Buyer's payment term is usually up to 90 days, but may be longer for some groups of goods
Financing amount of 70%-90% is determined depending on specifics of goods or services, and remaining amount is received by customer after buyer's payment
Factoring agreement is usually concluded for 1 year
Financing is provided at the moment when customer fulfils terms of delivery of goods or services and submits supporting documents to INVEX FONDI
Buyer's debt is transferred to EXPORT FACTOR, who, respectively, transfers it to a partner in the buyer's country, who took the buyer's risk (Import Factor)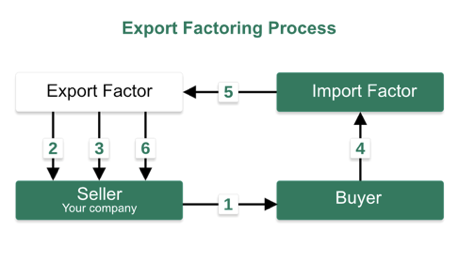 On receipt of application form from your company, INVEX FONDI submits documents and information received to a Partner - Export Factor, whose duty is to contact a respective Import Factor buyer to determine the limit of factoring. If the buyer's limit is confirmed, then:
Your company signs a purchase agreement with buyer
Your company signs a factoring agreement with Export Factor
Your company informs buyer about factoring by Introductory Letter
Further:
Your company delivers goods to the buyer
Your company, through Export Factor (mediated by Invex Fondi), transfers claim rights against buyer to Import Factor by submitting documents confirming sale transaction - contracts, invoices, and delivery documents to INVEX FONDI
Export Factor transfers an earlier agreed financing advance to your company up to 90% of value of goods sold, excluding factoring costs
Import Factor charges the bill according to its payment terms
Import Factor transfers the amount collected to Export Factor
Export Factor, respectively, transfers to your company the difference between the amount of payment received and previously transferred factoring financing advance.
Factoring application.